Click
to view this email in a browser

Dear Friends
PCFF is a community of Israelis
and Palestinians who have lost close family members during the conflict.
Together, they promote a long term reconciliation process through
dialog and mutual understanding.
---
PCFF ACTIVITIES REPORT 2009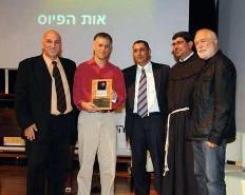 The start of 2009 did not bode well for the work of the PCFF. War in Gaza threatened to
hinder our work and of course created fear for the lives of friends and
members on both sides. If ever there was proof that the situation on the
ground did not affect our attitudes or work, it was this time. In fact
the Palestinian and Israeli members of the PCFF continued to participate
in the classroom dialogues, despite the sometimes cruel and nasty
remarks by the students. It was so heartwarming to note how the
attitudes changed after a dialog and proved once again the necessity for
these meetings.
click here to read the full report on our website
---
A glimpse of the Irish conflict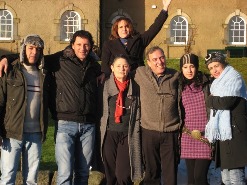 A joint journey from Dublin to Belfast, 20-28 January 2010.Last summer, twelve
PCFF-members participated in a small workshop "Healing through Story
Telling" in Neve Shalom. Alistair Little from Ireland and
Wilhelm Verwoerd from South Africa were very impressed with the Israeli
and Palestinian participants and the activities of the PCFF, and invited
the group to continue their joint journey in Ireland and acquaint
themselves with the Irish conflict.
---
Cartooning in Conflict exhibition – London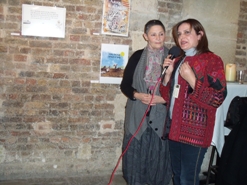 The shadowy crypt at St. Martin-in-the-Fields is a fitting setting for this exhibition of
war cartoons about the Israeli-Palestinian conflict. The cartoons have
been drawn by 35 artists from around the world.
---
Impact Assessment: Evaluating the 'Dialogue Encounters' of the PCFF
Bill Thomson, from the School of International Relations, Centre for Peace
and Conflict Studies at the University of St. Andrews, Fife, Scotland,
UK, showed in his research that over 89% of Palestinian and Israeli
participants showed a willingness to actively engage in the process of
reconciliation. Contact wwt@st-andrews.ac.uk. Translation by
Danielle Bett, University of St. Andrews.
---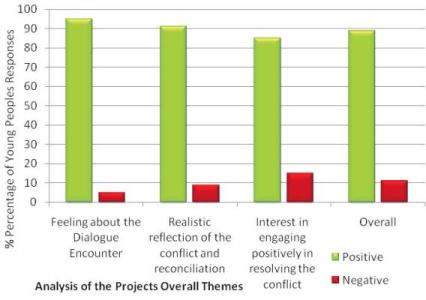 ---
PCFF Dialogue Encounters: September 2009 – February 2010
September 2009; 23 dialogue encounters, 19 of them were bi-national (with an
Israeli and a Palestinian lecturer).October 2009; 77 dialogue
encounters, 71 of them were bi-national.November 2009; 109
dialogue encounters, 98 of them were bi-national.December 2009;
96 dialogue encounters, 96 of them were bi-national.January
2010; 106 dialogue encounters, 96 of them were bi-national.February
2010; 123 dialogue encounters, 120 of them were bi-national.A
total of 534 dialogue encounters.
---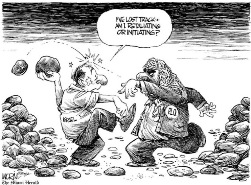 Dear Friends, the Parents Circle – Families Forum apologize to all owners of the
Cartooning in Conflict Calendar. Unfortunately there is a mistake in
the month of December, 2010. Please do not relate to the days of the
holidays as they are incorrect. We are so sorry, and hope that you will
nevertheless enjoy the cartoons, and we promise to do better next time.
---
PoemsWe would like to thank (in alphabetical order); Alan
Guttman, Lloyd Howell, James Tipp, Sara Ting, for finding us
inspirational and worthy.Here is Lloyd Howell's poem. We hope to
publish more poems in the future.*** They
are gonefor The Parents Circle They are gone,irretrievably
gone – like day swallowed by night, like dust taken by
the wind –gone to salt in our veins. They were killed by
folly, by hateful intent,by mistake, by blindness,by Israeli,
by Palestinian.No matter how,no matter now, no matter
by who,for they are gone,gone to where no one comes back.But
still, we can not forget them;every time night comes we are
swallowed by grief,every time the wind blows we are reminded,every
time our hearts beatthe salt stings as it courses through our veins
–only mutual, unspeakable emptiness remainsand of this we
choose to speak.We are the parents of darkness, dust and
salt,transcending race, religion and nation –we are the common
denominatorof all suffering.And we forbid you to
perpetrate hate in their sacred names.And we forbid youto kill
the child of yet another parent.YOU who would enlarge this
circle;cease and desist,for you have not the blessingof the
night, the wind or the salt,and none from us or God –the
Author of Life, both sacred and mundane.by Lloyd Howell,poet-online@optonline.netThis
poem will be appearing in Lloyd Howell's soon to be published poetry
book – Sleepless in Jerusalem.
---
From the Media
---
Join us on FacebookSincerely,PCFF members